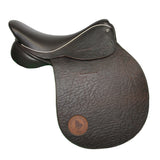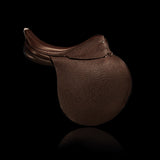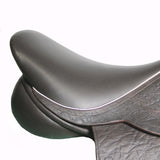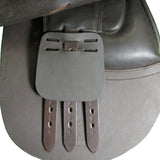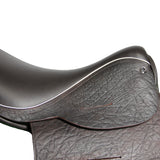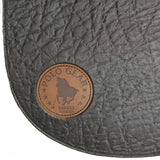 Polo Saddle-Generation II Free Shoulder Saddle
We Have Changed Suppliers In England and are offering all remaining stock saddles and the extremely reduced price of $1177.OO 
All Sales Final
The Fact:  The horses' shoulder was not designed to carry the riders' weight. This causes bursitis, chiropractic misalignment, inversion (high head hollow back) and atrophy of the top line muscles. Polo players want to ride forward so they put the saddle on the horse's shoulder.  

The Solution:  PoloGear assembled a dedicated "Free Shoulder Team" team that consisted of a top high goal polo player, a renowned veterinarian and well-known chiropractor, a high goal team manager, a top saddle fitter and one of the best English manufacturers to create a saddle that kept the rider forward but kept the riders weight and pressure off the clavicle (shoulder blade).   
The Result: A new patented technology, revolutionary concept/design and a saddle that allows the horses to perform naturally without pain and discomfort elevating the horse/rider communication to a whole new level. This amazing saddle is lighter (only 17 pounds in 18 inch) and allows the rider to be over 2 inches closer to the horse, very stable and horses love it.  The Generation II Free Shoulder Saddle can comfortably fit any polo pony and provides a stability and security naturally placing the riders weight in the optimum pivot point in the saddle.  
 We invite you to experience the positive difference the Generation II Free Shoulder Saddle makes for your horse, you and your game. Contact PoloGear at 561-795-1719 for a test ride and to answer any question.