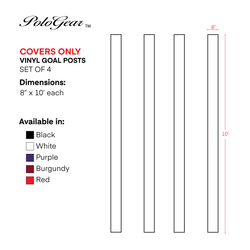 POLO GOAL POSTS-Vinyl Outers Only
If for any reason you want to change the outer covers for you goal posts we can accommodate. You can order 4 sublimated outer covers to be shipped without the foam cores. Many clubs are utilizing to honor sponsors. These covers are not the traditional pull over covers but are attached with a velcro closure the runs the entire length of the goal post and that makes installation quick and easy. 
PoloGear at 561-795-1719. Sublimated posts can accommodate any design.