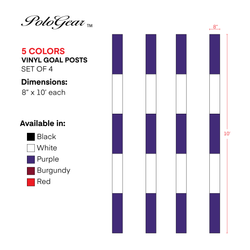 Polo Goal Posts-Polo Safety Foam Center Vinyl Outer-5 Color
Polo Safety Goal Posts feature an open cell foam center with a waterproof vinyl covering. The center of the foam is hollow to allow electrical conduit to be inserted to give it stability and to provide to skeleton to keep the post upright. The conduit inserts into an 1 inch dowel inserted into the ground. The goal posts feature 18 Oz. heavy duty vinyl that is UV treated as to not fade in the sun and is available in 5 colors.  Vinyl is easily cleaned and is extremely durable. Made in PoloGear Teamshop, the original polo outfitter,  in Wellington FL for great quality, service and quick delivery.  Set of 4 goal posts included. 
Pick from the five colors below for each band. Each band is around two feet wide.