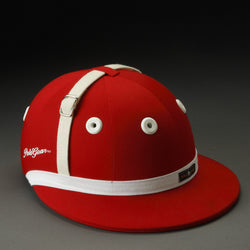 PoloGear Traditional Polo Helmet
PoloGear polo helmets have been widely acclaimed by the polo community and testing authorities as the best made of any of the traditional polo helmets. The PoloGear helmet combines the good looks of the traditional lock style polo helmet with the safety and shock absorption that have kept generations of polo players safe and secure. THESE HELMETS HAVE NOT BEEN SUBMITTED TO NOCSAE FOR TESTING AND THEY HAVE NOT BEEN NOCSAE CERTIFIED. 
Custom colors and embroidery are available. Please call for details. View our helmet sizing chart here.