Jeanette and Gary St Moritz Polo on Snow 1999
Polo Equipment and Clothing Outfitters Since 1993
Since 1993, PoloGear has striven to provide the finest technical and apparel products for polo. Our approach to our business and to the game comes from the perspective and love of the player. Polo is very personal to PoloGear — we share a passion for the game, the horses, and the sport that binds players around the globe to this exciting, challenging, and sometimes irrational sport. In each of our products you will find this dedication to the game.
At PoloGear, we are committed to continually refining and redefining products for the sport of polo. We are constantly working to produce products of the finest quality and most technically advanced available. Wherever possible, we manufacture our own products to control quality and innovation. We constantly seek advice from top players, trainers, veterinarians, acupuncturists, chiropractors, and technical experts as to how we can improve the performance, durability, technical excellence, and safety of our products. Of our accomplishments, this dedication to product innovation is what we are most proud of.
The PoloGear™ Story
PoloGear is THE one and only authentic, real genuine, polo outfitter. Since 1993, we have been outfitting polo players, polo teams, and polo events worldwide. We have provided them with polo equipment and polo supplies for players and teams. We have made the team shirts and team jerseys their teams have competed in and outfitted their staff, families, friends, and corporate sponsors. We have used our apparel background and experience in fashion to make sure that they looked good. For almost 30 years we have been the standard in polo equipment and apparel.
During this time we also outfitted our players, families, sponsors and followers off the polo field as well as on. Since the inception of our business, we have offered a complete line of branded apparel as well as our technical clothing. We have outfitted the polo way of life since 1993.
Now we are entering into a new phase of our brand growth and development. Under the direction of Bernt Ullmann we are now embarking on a global deployment of our branded apparel products direct to consumer. This effort will be supported by Vice President of Design and brand ambassador Nic Roldan, America's highest rated polo player, and a strong ecommerce and marketing effort. The sales effort will be to benefit the Saves The Horses Foundation, a charity close to PoloGear and its founders. A percentage of all PoloGear ecommerce sales are contributed to the STH.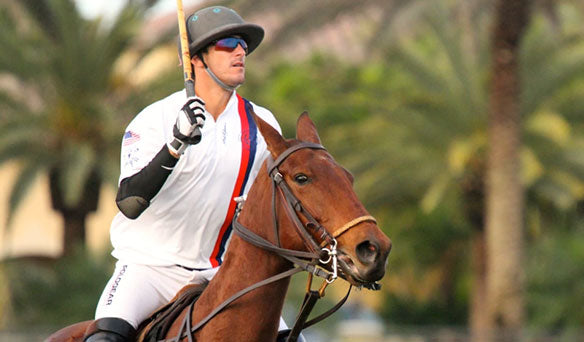 Nic Roldan Joins PoloGear™ As An Officer
After many years as brand spokesman, Nic Roldan, America's highest rated polo player, has officially joined PoloGear as an officer and owner of the company. Nic, in addition to his polo playing and technical product development activities, is using his fashion interest in the newly created position of Vice President and Design Director of PoloGear. Nic will be working with our suppliers in LA, New York creating the new PoloGear men's apparel line. PoloGear is very excited to welcome this long time PoloGear family member to his increased involvement with the company.
The PoloGear™ Logo — The Only Authentic Polo Brand
Where Did It Come From?
Founder, Gary Fellers, played polo for almost 40 years. During that time he had owned many horses — some good, a few great, others not so good. As with any player they say you can count the great ones on one hand. He would concur that was his experience. One on the great's for him was Texas, shown in the picture above. Texas was a brown gelding from, well, Texas. We know little else about his background other than the fact that he was purchased from Vicki Armour.
Texas was a character. In the spring, Gary nearly always got bucked off at least once, sometimes two or three times in the first week of conditioning. It was kind of a spring ritual. It was a bonding experience, like Texas was telling Gary that this is what he could do if he wanted but he chose to do otherwise.
After this first week, and from that point on, every day, every game, every minute of every chucker, Texas was perfect. Never a moment's hesitation, never a question of intention — he was a great horse, a great friend, and a great partner. He was an alter ego. On Texas you could all the sudden run 40 miles an hour and weight a 1000 pounds. Communication was by telepathy. You thought, he went. On Texas one was able to experience the ultimate in equestrian/human bond and communication and the ultimate experience in polo, where the horse and rider are one.
Back in 1993, Gary was discussing what the logo for Polo Gear should be and Jeanette opined that it should of course be Texas. She then produced the photo below which was taken at the 26 goal season in Saratoga. Gary was playing back and the play was heading toward the goal from the right side of the field. Instead of backing the ball into the traffic, he chose to neck it to the opposite side of the field and move to offence. This is not often the chosen move for a 3-goal player, with a 9-goaler and an 8-goaler behind you. Texas instilled this confidence. This just happened to be toward the press and celebrity tent.
As was typical of Texas he timed the shot so he had his total power in it with all four feet off the ground. The ball sailed 120 yards directly at the AP photographer who just happened to snap the shot at the exact moment Gary hit the ball. AP picked it up and the photo made the rounds in the newspapers and now makes the rounds on all Polo Gear merchandise.
A Salute to Texas
To us at Polo Gear, the logo is a salute to Texas and all the great horses who have played the game. Texas was retired to Boone Hall plantation where he greeted guests in his gentlemanly manner with but still with a sparkle of mischief in his eye. He will remain in our hearts, and on our products forever.